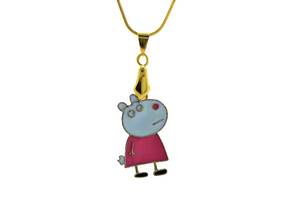 Peppa Pig Friends Pendant Necklaces
Sale price Price £14.99 Regular price Unit price / per
Tax included.
That's right Kew Little Pigs has it's very own jewellery line! This has been an ongoing project that we are so excited to share with you all!

You've seen our silver Peppa pendant necklace, now we would like to introduce her friends!

The perfect selection of pendants for a group of friends or sisters.

We have Emily Elephant, Candy Cat, Miss Rabit & Suzie Sheep!