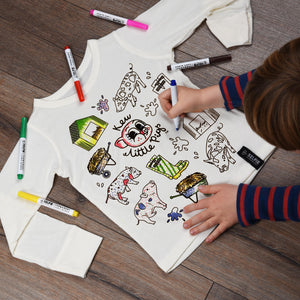 Create your own piggy t-shirt!
Sale price Price £15.00 Regular price £20.00 Unit price / per
Tax included.
This is a fantastic gift for any piggy lover or a great addition to a pig themed party! 
This beautifully packaged children's colour in, creative kit includes; a long-sleeved round neck top, six fabric colour in pens and a colour in practice sheet. 
The lightweight jersey blend top features a unique pig themed colour in design, ready for your little ones to get creative with. The fabric pens use high-quality UV ink which can be air cured for 24 hours or ironed by a parent. The colours will not fade and can be worn time and time again.
The perfect gift for any child with a creative edge or a group activity for parties or play dates.