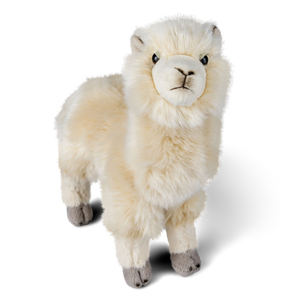 Alpaca Soft Toy
Sale price Price £18.00 Regular price Unit price / per
Tax included.
Made from premium materials, this Alpaca soft farm toy is super soft for children's to love and cuddle.
This lovingly made soft toy is an adorable and unusual gift for any child who would love an Alpaca as a pet!
Alpacas are small camel-like creatures, with a distinctive long neck and soft sheep-like wool, and are often confused with Llamas, but they're much smaller. They're good natured and curious creatures, so they'll never bite or be a danger to anyone. In fact, alpacas rarely spit, and on the occasion that they do, it's aimed at other alpacas when they're annoyed, usually over food. Because of their strong herding instincts they need friendships with other alpacas otherwise they'll get lonely. They're very smart animals and can be easily trained from a young age, even to follow on a lead. 
Fast Fact
Alpacas are ancient – they were domesticated by the Inca tribe 6000 years ago. 
Habitat
South American Mountains and Farms. 
Believe it or not...
They'll always poop in the same spot!