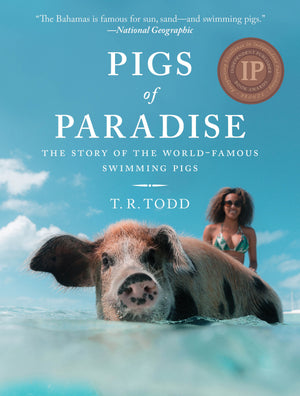 Pigs of Paradise Book by T.R Todd
Sale price Price $19.00 Regular price Unit price / per
Tax included.
The journalist T.R.Todd celebrates all that is pig in new book 'The Pigs of Paradise'.
This hardback edition is beautifully executed , peppered with geographic and historic information and explores our fascination with pigs through interviews with historians and famous pig owners. Kew Little Pigs are also featured and T.R.Todd shares our journey from a small garden business in Kew to one of the largest and most unique micro pig businesses within the UK.
The book is bought to life further with images that have been shared across social platforms thus making the island the mecca for animal lovers worldwide. Photos depicting once in a life time opportunities that would make anyone dreaming of paradise green with envy, are rich in colour and show tourists posing happily alongside contented piggies in out of this world exotic landscapes.
For many the dream of visiting the Bahamas will remain just so, however Todd's ability as a genuine and informative writer, brings a wonderfully unique story to life making the reader feel as if they too are basking under exotic temperatures taking selfies with one of nature most intelligent and curious beasts.