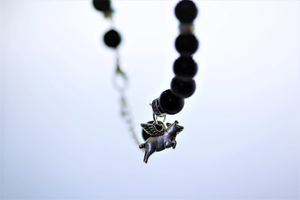 Onyx Bead Bracelet with Silver Flying Pig Charm
Sale price Price $25.00 Regular price Unit price / per
Tax included.
That's right Kew Little Pigs has it's very own jewellery line!= This has been an ongoing project that we are so excited to share with you all!
Here we have a our Onyx line. You can choose from either 5, 4 or 3 Diamante spacers. Each has a sweet flying pig pendant to remind you that anything is possible.

Onyx is a stone for strength, hardiness, constancy, grounding, stamina, and self-control. All of these qualities come together in the layered beauty of onyx, which plays to the strengths of vigorous Scorpio. If that isn't for you, then purely the mesmerising colours are enough to make you fall in love.

This would make the perfect present for any pig lovers for birthdays, anniversaries or Christmas.

We are so excited to announce our in-house jewellery line. For all our fellow pig lovers, why not come down to the farm and see the jewellery for yourself along with getting up close and personal with our gorgeous piggy's that inspired this line.