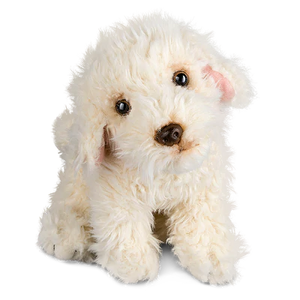 Labradoodle
Sale price Price $26.00 Regular price Unit price / per
Tax included.
If you love to cuddle on the sofa this Labradoodle will be your pawfect friend!
Made from the softest faux fur fabric, and designed to look as realistic as possible, this softo toy dog is the perfect gift for a child who wishes for a real dog, or just loves the fluffiest of animals!
A cross between a Labrador Retriever and a Poodle, the Labradoodle can be a mix of colours and sizes. Labradoodles can vary wildly in appearance, even within the same litter. Some may have curly hair, others long straight hair. Some are standard size, others toy size. It really depends on the size and colour of the mum and dad. They are a very loving and intelligent dog which has immense energy. So, plenty of walks is a must! 
Fast Fact
They have a gentle nature so make great therapy dogs. 
Habitat
Home.  
Believe it or not...
Thanks to the poodle in them, they don't trigger any allergies.